If you don't already own a pair of the Spanx Faux Leather leggings then you are missing out... Or you're waiting for the next sale. Good on you, smarty. I'm telling you though, these pants are the leggings to end all outfit drama; I've quite literally styled them with anything you might want to wear and they are perfect with every outfit. Cozy and casual with a sweater at home or with runners on the go; dressed up for date night in town; school pick up; office holiday party-- you name it, these work. Now I'll quit trying to convince you and just let you see for yourself. Here they are, my 10 Ways to Wear Spanx Faux Leather Leggings:
1.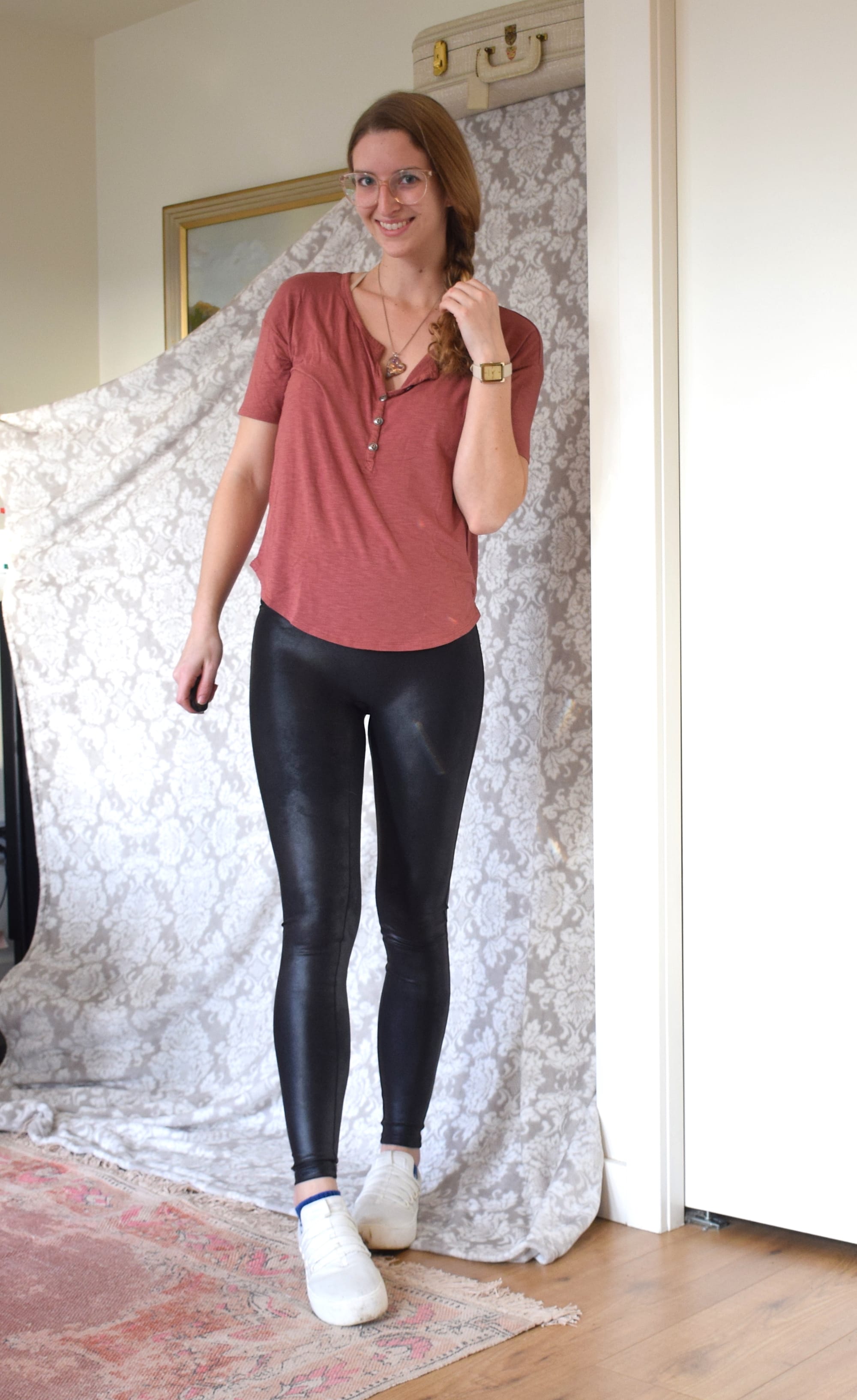 Okay, ignoring my dirty shoes... (which are a couple of years old from Fabletics-- Sorry guys, I just love these shoes,) This is my cozy-casual look. I'd wear this at home, grocery shopping, going on a run (if I did that type of thing haha).
Shirt is American Eagle and my accessories are Anne Klein (watch) and Arc En Ciel Treasures (heart pendant necklace). Everything will be linked at the end of this post.
2.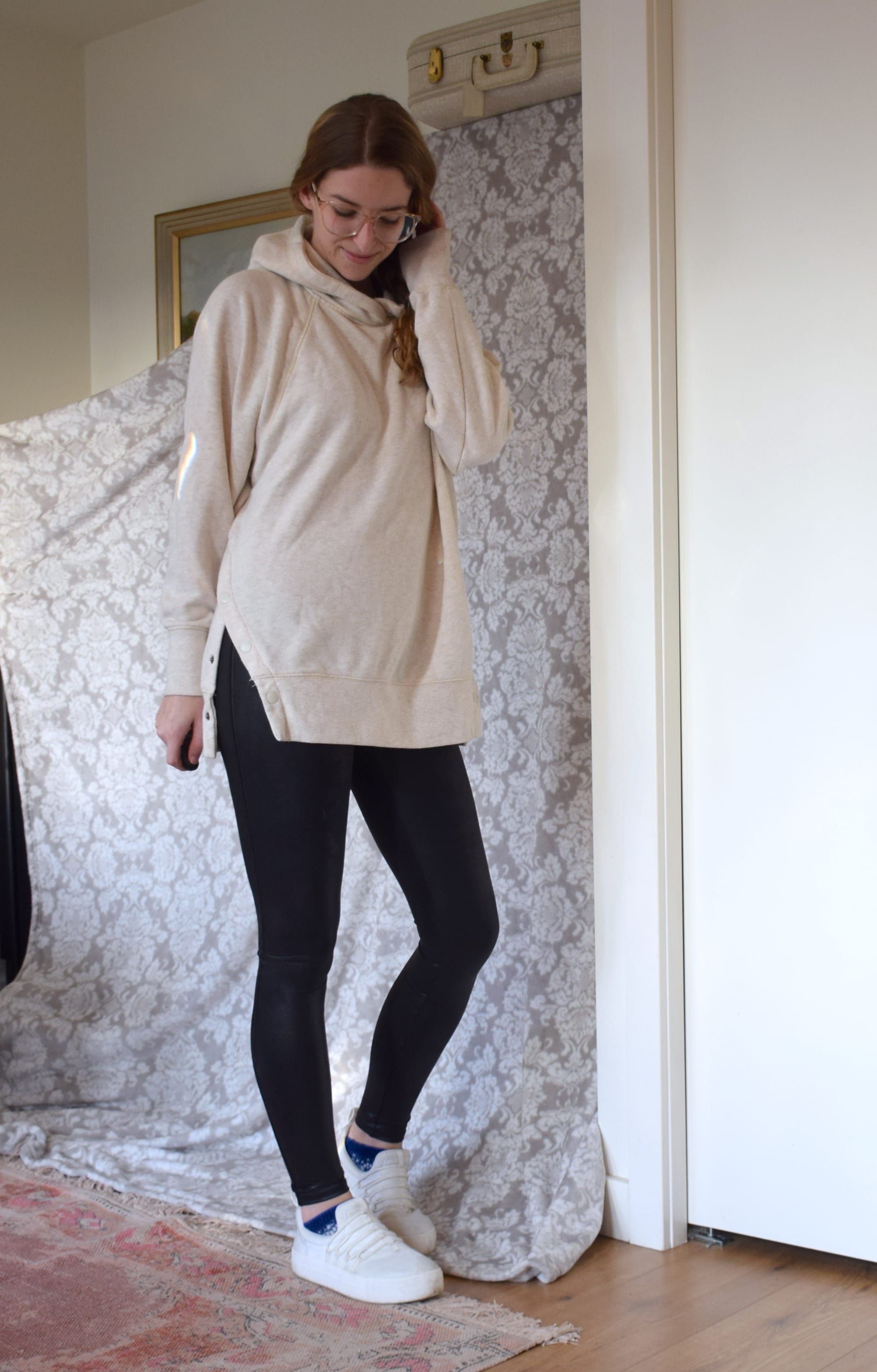 I can tell you honestly I've worn this exact outfit on numerous occasions. It's literally the best. I'd even go as far as to wearing this out for a (suuuper) casual lunch.
3.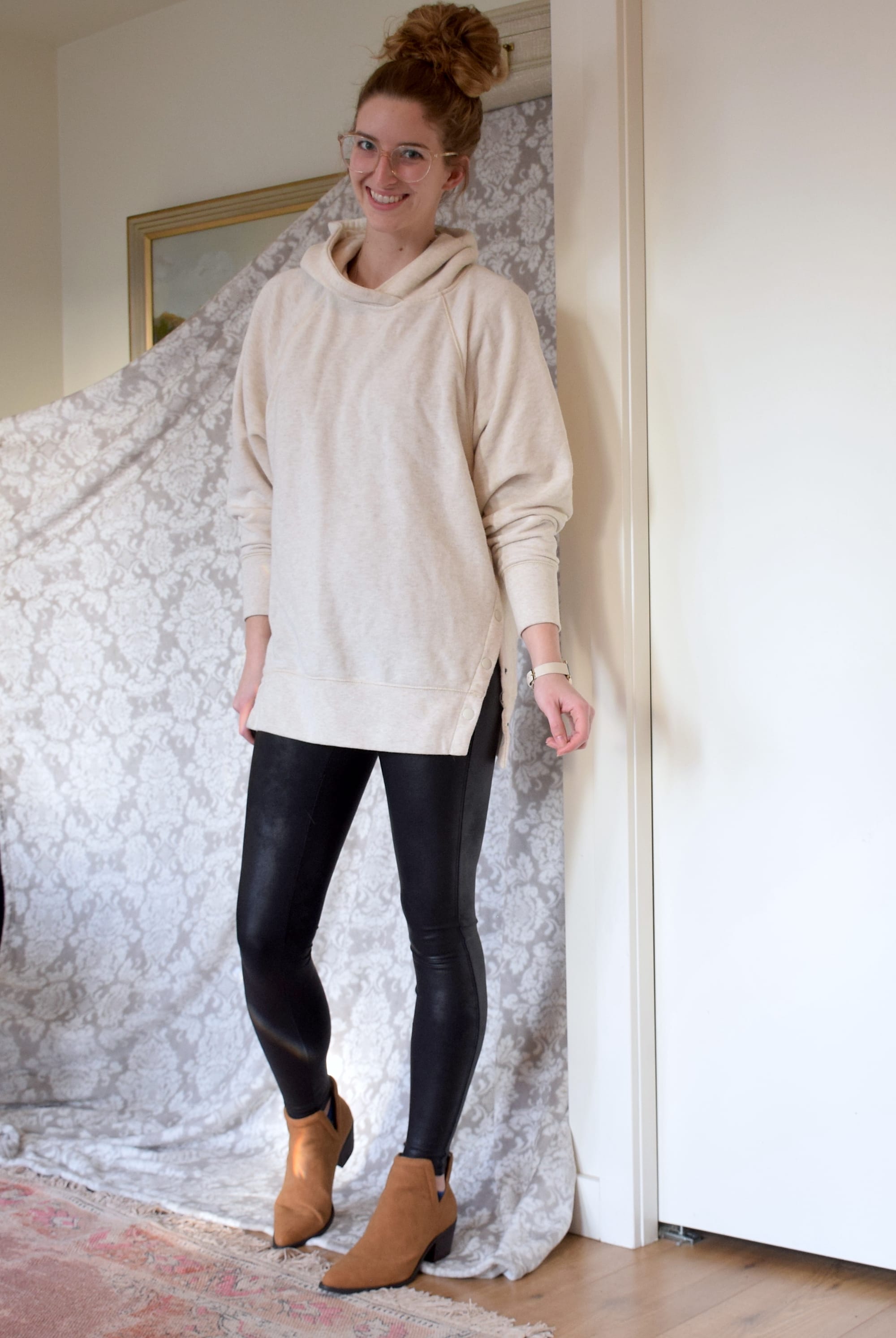 Spot the difference! All I did was change my shoes and this simple outfit went from maybe lunch to almost definitely, with ice cream after.
4.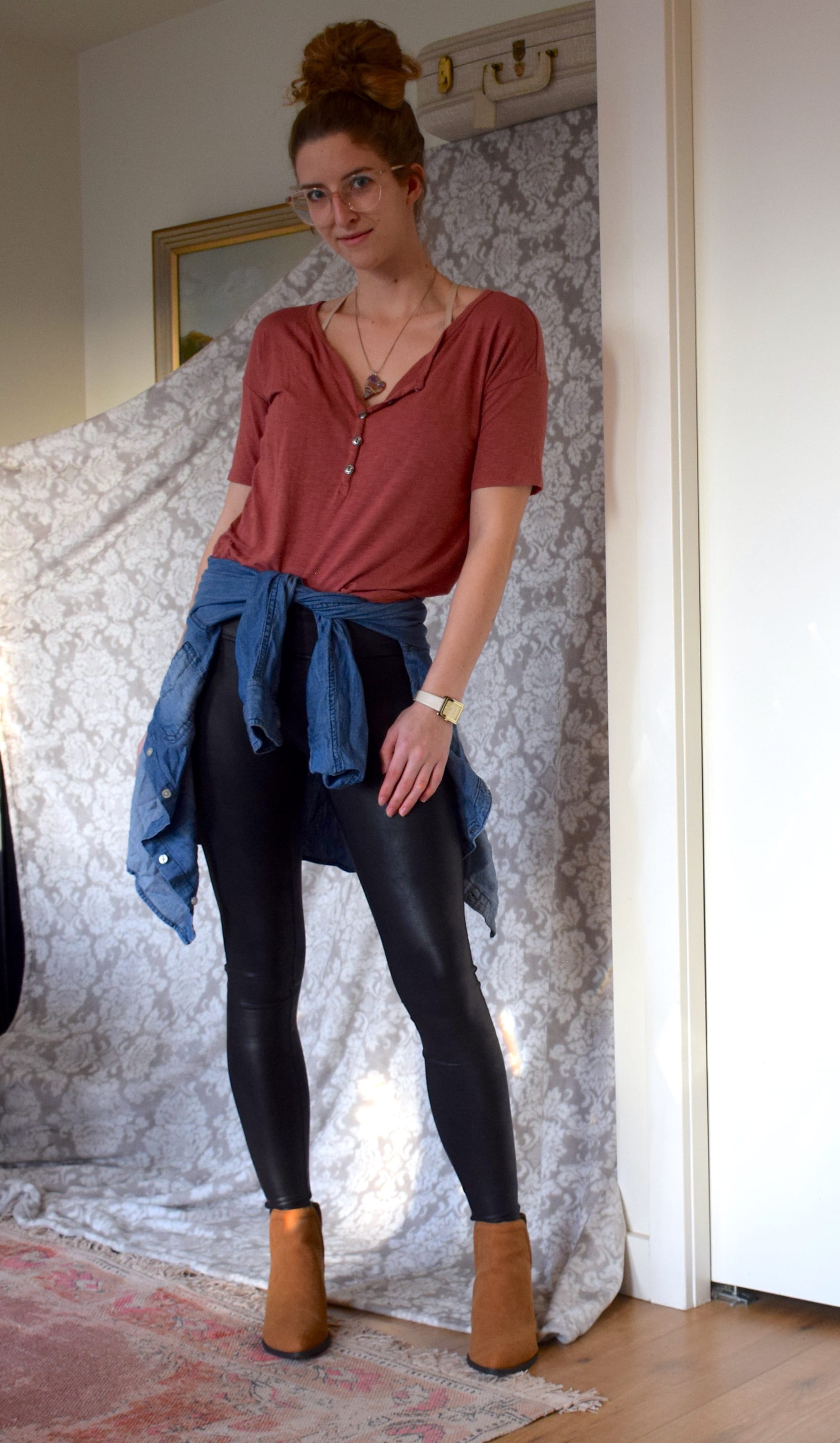 Move over, Kim K-- your Kompetition just walked in. Okay that was really bad, sorry everyone... But I mean, this outfit. I don't even know what to say.
5.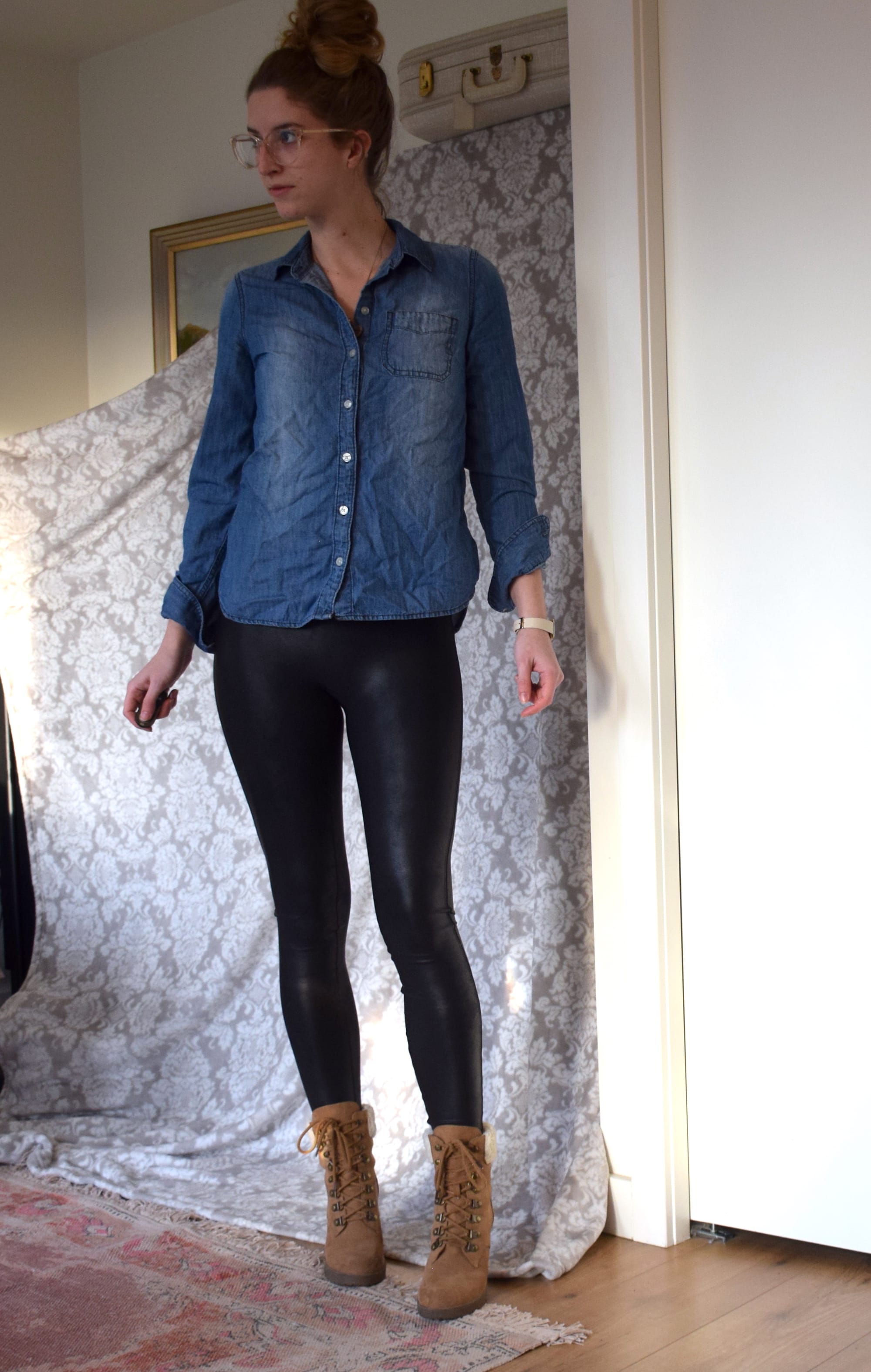 Pretty much a completely different outfit than the previous one, and all I changed was the shoes. Also, where's my steamer? Nobody look... Ps. These boots are old Payless and I'm not sure if they're available anymore. They have fur on the back and are surprisingly comfortable for how high the heels are.
6.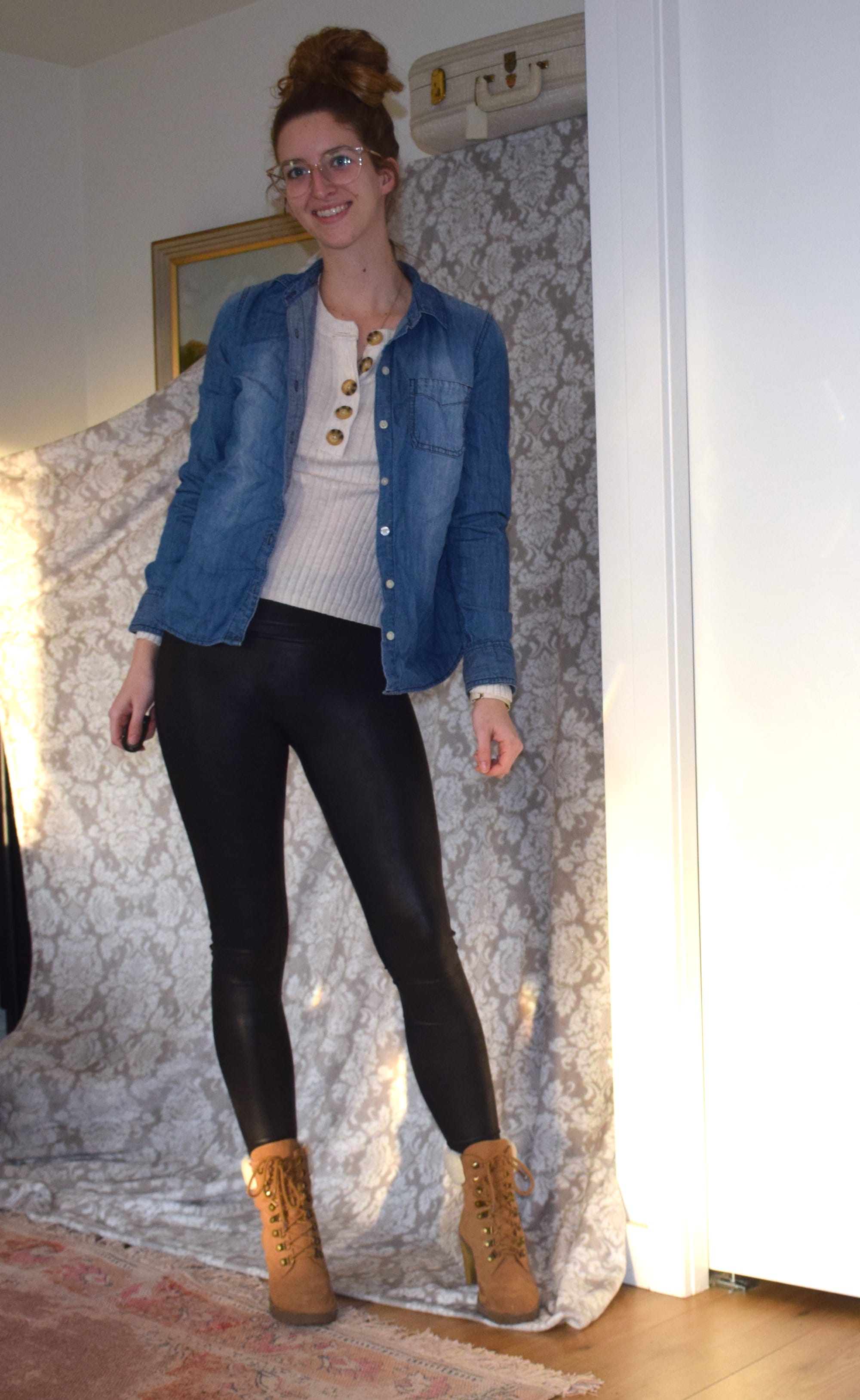 Oh, look, I just wore the same shirt in the last 3 looks. Did you just scroll back and check?!
7.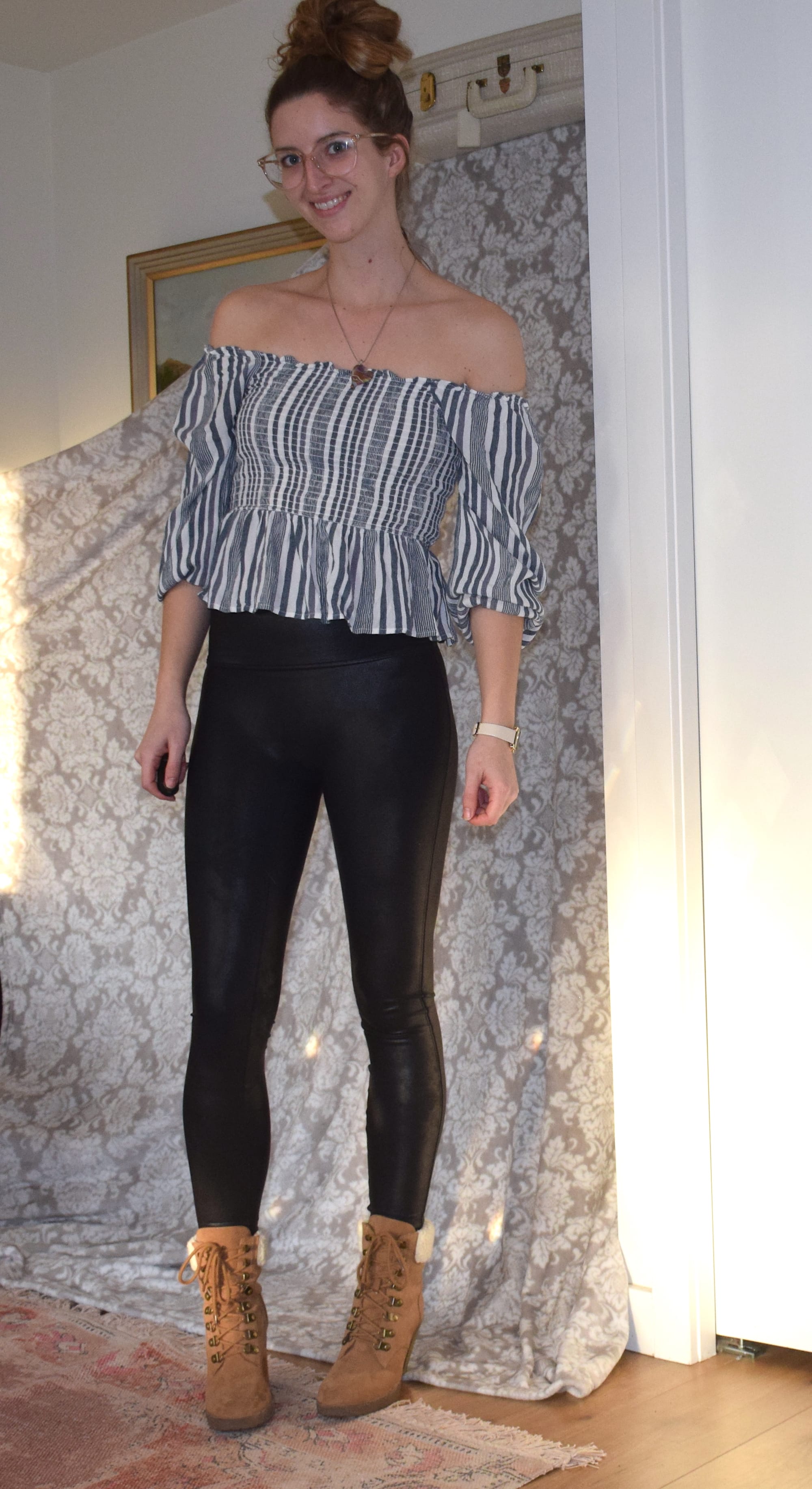 Easiest outfit for dinner. Literally pants, shirt, shoes.
8.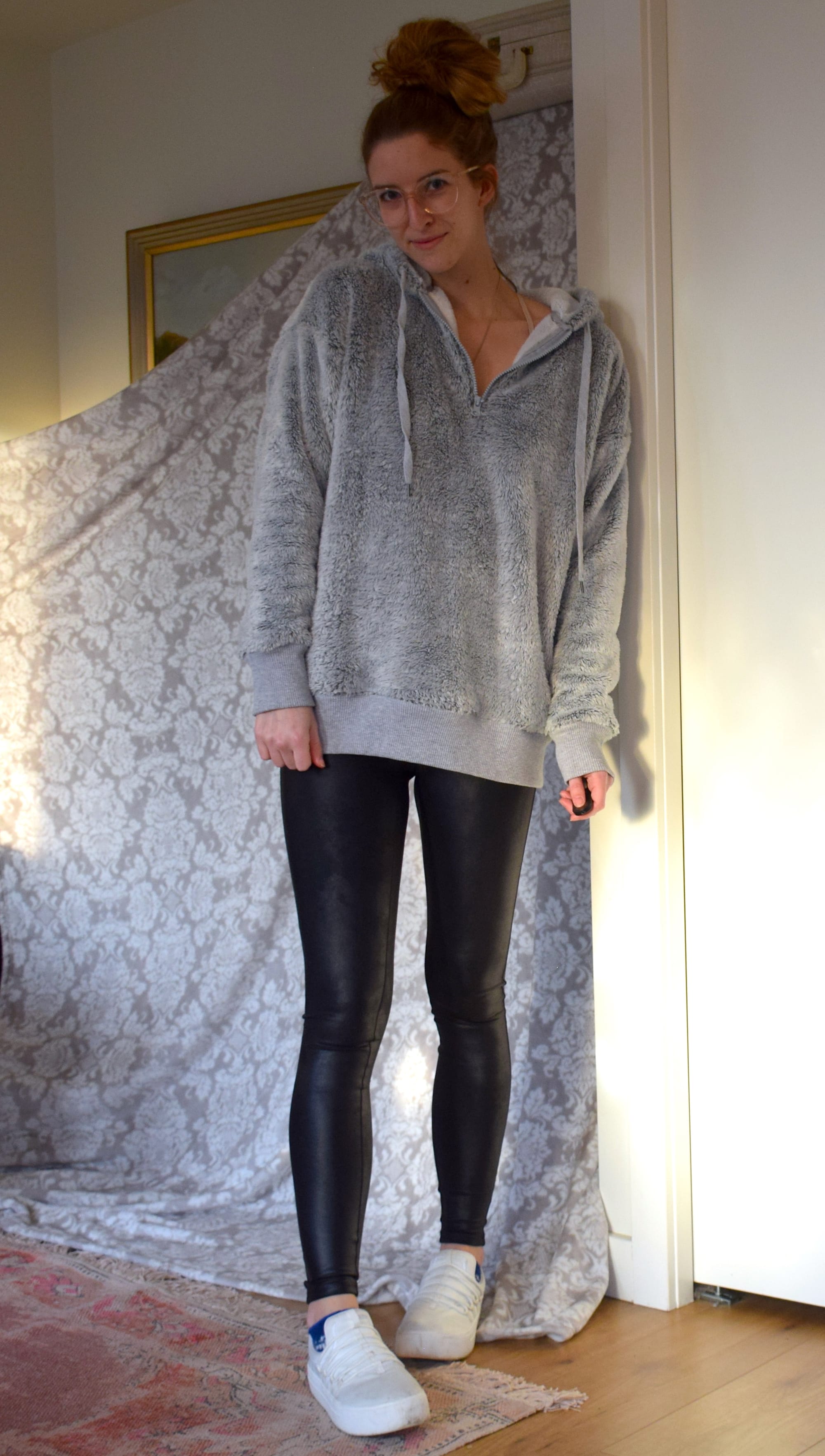 Every time I wear this sweater people ask to feel me. So, I mean, if you don't like that kind of thing I'd probably just wear it inside... But you def-in-ite-ly need this sweater. If you buy two things from this post make it the Spanx and this sweater.
9.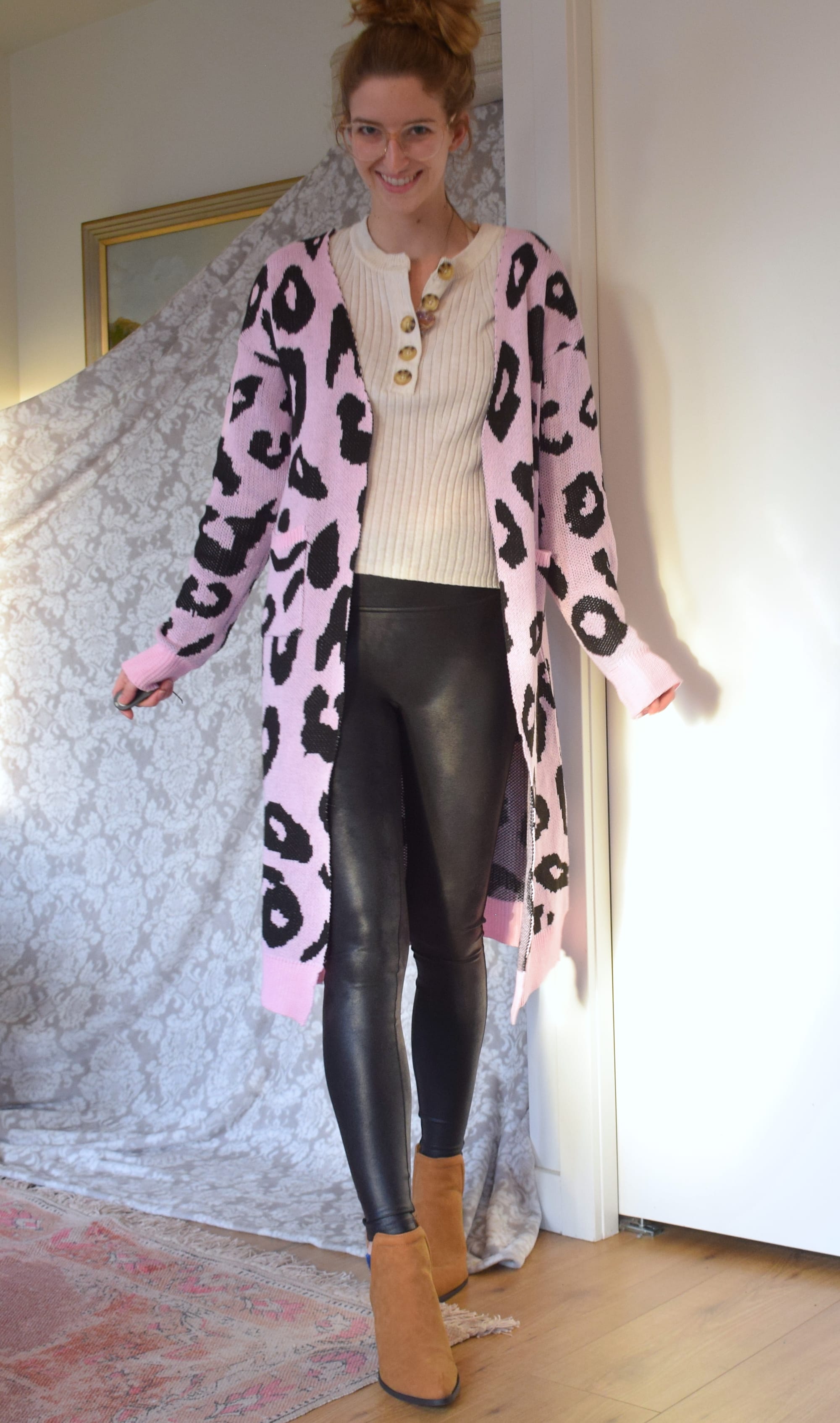 Currently wearing this exact outfit. I'm not even ashamed.
10.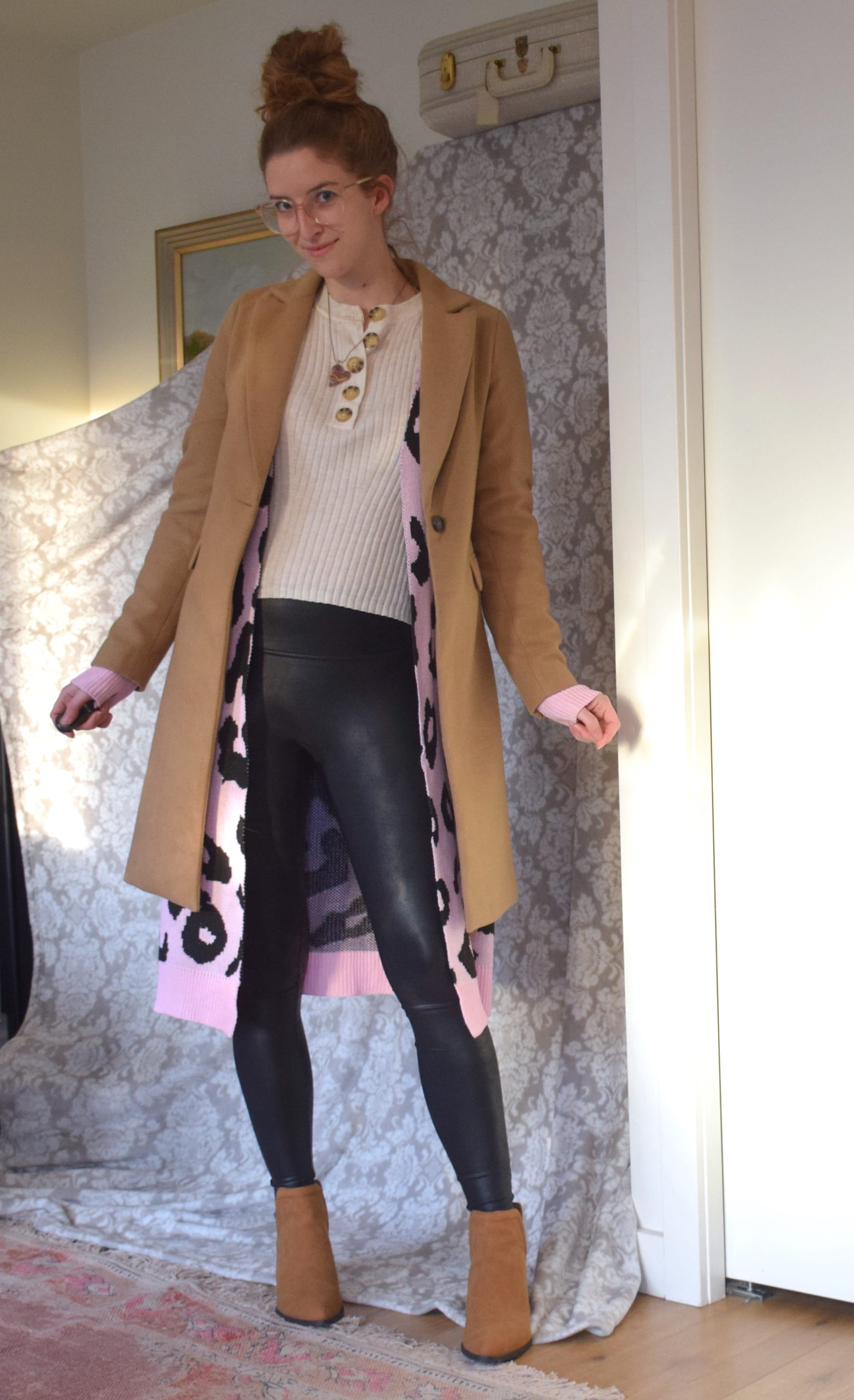 Thank you for reading! If you liked any of my outfits you can shop the pieces here:
https://shop.nordstrom.com/s/spanx-faux-leather-leggings/3828364
- Spanx Faux Leather Leggings
https://www.ae.com/canada?cm=sCA-cCAD
https://www.ae.com/aerie/aerie/s-cms/4840006?cm=sCA-cCAD
- AE Button Rib Button Henley Pullover Sweater
- AEO V-Cut Bootie
- AE Button Front T-Shirt
- Aerie Side Snap City Hoodie
- AE Smocked Long Sleeve Blouse
- Aerie Cozy Quarter Zip Sweatshirt
- Classic Chambray Shirt for Women (currently on sale)
https://us.asos.com/new-look/new-look-tailored-coat/prd/9648158?iid=9648158&custref=157970871&affid=14564&channelref=email&orderref=352421635
- New Look Tailored Coat (currently out of stock)
https://www.arcencieltreasures.com/shop
- Heart Pendant Necklace
https://www.amazon.ca/Anne-Klein-AK-2706CHBK-Gold-Tone/dp/B01H1UHV5S/ref=sr_1_19?ie=UTF8&qid=1548469450&sr=8-19&keywords=anne+klein+watch
- Anne Klein Watch
https://www.payless.com/brash-shoes/
This post is in no way sponsored by, or affiliated with any businesses.